Ah, Comic-Con. One of our favorite distractions on planet Earth! 100,000 fans and creators of all things fantasic, fun and just plain nutty. Surferjoe and I ditched the drawing boards and drove down to San Diego on a summery Wednesday afternoon.
As we approached the Convention Center, we being the ultra observant types, couldn't help but notice oh - maybe several thousand people huddled and teeming. It's Ellis Island for those seeking entry into Promised Land 2.0.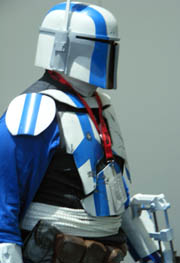 The San Diego waterfront is just so darned lovely & charming at sunset, draped in long shadows cast by legions of Storm Troopers and guys dressed as Rorschach.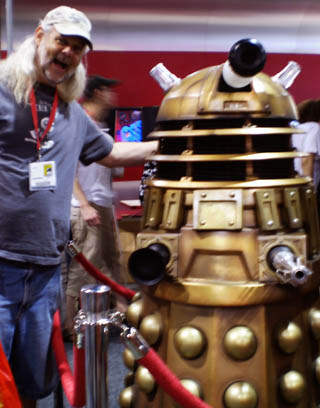 Joe ran into a Dalek buddy from the old neighborhood and they stopped to catch up on who's been annihilating Who.
Thursday started off with a daunting line that snaked halfway to the TJ border crossing. But by the end of the day - Oh Baby, were we ever glad we stayed for the show. . .

AVATAR panel speakers (L-R: Jon Landau producer, James Cameron director, stars Sigourney Weaver, Stephen Lang, Zoe Saldana)
James Cameron screened 25 minutes in gorgeous (slightly psychadellic) 3D from the upcoming AVATAR. Surferjoe & I have been uber curious about this one, as we had been in discussion about joining the crew a few years ago, working on cg flora - fauna hybrids. We passed on the job but you'll find us in line for the movie. Looks pretty fab!
Avatar begins in live action, but soon transitions to cgi as we arrive on Pandora, a world of floating jellyfish-like seedpods and carpets of biolumenescent plants. The away team's minds / consciousnesses have been downloaded into avatars, human-alien clone bodies that have been grown for this purpose - to allow humans to go on missions to distant planets, in bodies designed for specific alien environments.

Cameron's years spent deep sea filming for his previous IMAX project clearly paid off as research for the look & feel of Pandora.
And yeah, when you have a planet named Pandora, you have to figure it's not going to be all sunshine & daffodils.

Sigourney Weaver looked radiant and received a huge round of applause. We love Ripley!

Stephen Lang, who plays a hardnosed Colonel joked that he'd auditioned for a role in Alien over 30 years ago, making this possibly the longest awaited callback for an actor, ever.

Zoe Saldana (recently Uhura) talked about the extensive training in archery and dialect.
Cameron enlisted the help of a linguistics expert to create the language of Pandora and even developed a Berlitz language course for the actors. Seriously, now.
During intermission, we ran into a fellow cg artist who worked on Cameron's Terminator. We traded stories (translation: compared battle scars) about Digital Domain (Cameron's effects house in Venice, CA), cigar-smoke dinners at Schatzi's (a bistro Cameron & Shwartznegger co-owned back in the day - YUMmy food, not too crazy for the essence o' cigar) and generally commented on the sleepless gypsy life of the cg artist.
After Avatar, came the amazing TERRY GILLIAM!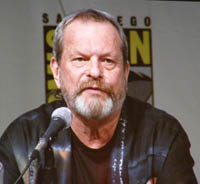 Time Bandits. Brazil. Meaning of Life.
For some of us, this guy didn't just direct Holy Grail, he IS the Grail.
Surferjoe and I are massive Terry Gilliam fans. Did I mention that? Mr. G screened a generous amount of clips from his upcoming Imaginarium of Dr. Parnassus (BREATHTAKING) and talked about filmmaking, the sad loss of Heath Ledger, the meaning of life and the difficulty of getting studios to back his movies. He also commented on Harry Potter (he was JKR's first choice to direct #1) I love Harry, but honestly now, Baron Von Munchausen's Death still kicks Patronus over the Dementors.
Mr. Gilliam talked about his fondness for painters from Brueghel to Bosch, fidgeted with Hershey kiss wrappers nonstop and seemed self conscious but pleased to be addressing a roomful of ardent fans rather than a conference room full of studio execs.
What could possibly compete with such a day of extraordinary creative discussion? Well, Day Two wasn't too shabby.

CORALINE director Henry Selick (Nightmare before Christmas) and the fabulous writer Neil Gaiman (Coraline, Sandman, Anansi Boys, Stardust) along with producer Bill Mechanic (our boss' boss during a stint at Fox) actors Terry Hatcher and Keith David, Puppetmaker extraodinaire Georgina Haynes (Corpse Bride) and stop motion animator / slave-to-his-craft Travis Knight.
Neil Gaiman is blazingly quick witted. We could listen to him all day.

He politely apoligized to the production team for writing all the things that they ultimately had to construct, animate and film. He joked that as a writer, he has it easy. "The magic of books is that they're so collaborative. The reader does so much of the work."
Gaiman was clean shaven that day, with Selick sporting a beard. In footage filmed at Laika animation studios, Gaiman was the bearded one, with Selick clean shaven. "Henry and I share a beard. Only one of us can wear it at any given time," Gaiman said. Maybe on alternate Thursdays, they'll let Tim Burton try it on.
Bearded or not, we love these guys!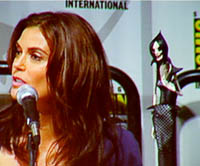 Terry Hatcher discusses the challenges of voicing Mother, Other Mother and the scary & scarier incarnations of Other Mother.
Once the actress was cast, the designs were revised to incorporate some of her own physical appearance.
Asked what movie he'd love to direct next, Henry Selick turned to Neil Gaiman and said, "I haven't brought this up before, but I'd really love to make SANDMAN into a movie!" Neil grinned widely and said "Let's do it!" YEAH! Start sewing your 2011 costumes.
Later that same Comic-Con...
Another line, another opportunity to enjoy a brief interlude of heatstroke.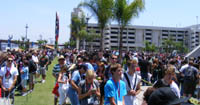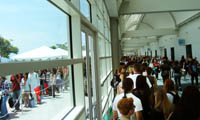 Just in time to save the day, JACK BAUER and the cast & crew of 24 hosted a panel talk in a mercifully airconditioned ballroom. (Mary Lynn Rajskub gives us the infamous Chloe Smirk of Conflicted Disapproval)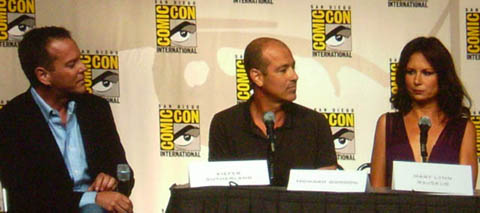 CTU is back to battle the trickiest threat ever - Peace! New cast members include Freddie Prinz Jr. (Mr. Buffy) and Katee "Starbuck" Sackhoff.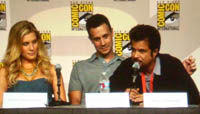 Mr. Anil Kapoor...
Slumdog CTU!
Is that your final answer?
Of course, no trip to Comic-Con is complete without
JOSS WHEDON.

Flanked by the cast of DOLLHOUSE,
Joss made funny and proved once again that he is DA MAN.
The "lost" episode the network refused to air was screened for this packed (& happily so) audience. If 6,000 people giving you a standing, cheering ovation is confirmation that your work is worth seeing, then Joss, I hope you (and the network) heard us loud and clear. Seriously. Powerful.
Asked why there seems to be a theme of "Evil corporations trying to control our minds" running through his work, Joss shrugged and replied, "Uh, have you been to America?"
Asked about the conflict of producing his shows for these corporate networks, he said, "It's a bit like running the daycare on the Death Star."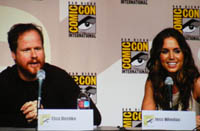 That was yesterday and we've already used that line several times. Thanks Joss - we'll be getting plenty of mileage out of that one.
Heading down into the Convention Center's equivalent of a dark dungeon, we caught the tail end of a very amusing table reading of Star Wars: Clone Wars. The voice actors for the animated series included Anthony Daniels, the one and only voice of C-3PO and Tom Kane, who voices Yoda for the animated series.
George Lucas and Seth Green provided pre-taped antics.
And then things got REALLY good.
So, what would it be like to stumble into a room and find two legendary filmmakers just having a nice little chat and sharing anecdotes? When the duo is PETER JACKSON & JAMES CAMERON it's fairly amazing.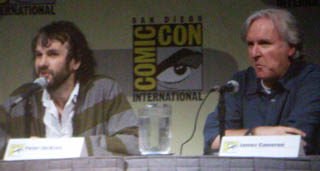 Jackson, the svelte elf, is quiet and thoughtful, choosing his words thoughtfully and sparingly. Cameron's personality is larger than IMAX, a kind of evangelist for new technology, from stereoscopic movies driving consumer technology for 3D televisions and Blueray, to rehauling film and televison to abandon the obsolete standards of 24 and 30 frames per second.
Peter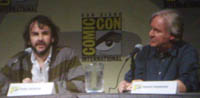 Jackson talked about TINTIN (YAY!) and how James Cameron hogged so much of WETA's time for AVATAR, that Jackson had to go elsewhere have his own effects done for his own DISTRICT 9.
Jackson also briefly talked about TEMERAIRE, a dragon-ccentric book series he's bought the rights to and plans to film. (yes, it's already been added to my amazon.com shopping cart)
Speaking of Wish Lists, one of the coolest things we saw on the exhibit floor was this display of EXCELLENT rayguns.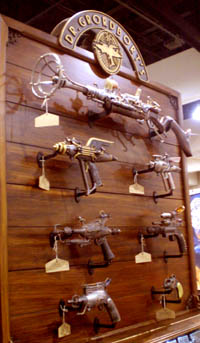 Another fun & fantastic Comic-Con. Always worth a trip to planet Earth!
Poly256 signing out!
(if you're in the galaxy, come visit me at Wonderlens!)
Posted by poly256 at 11:36 AM EDT
Updated: Sunday, 26 July 2009 8:20 PM EDT